A new decade is upon us! There is no better time than now to plan out the adventure of a lifetime. Why do the same old, same old? New year, new you…or something like that, right? 😉
Take this decade to the next level. From the Galápagos Islands to the Southern Lights, make 2020 your year to shine and fall in love with all the beauty and culture in this world.
So, where will the next decade take you? Let's count down the dream travel bucket list for 2020.
Go on a Solo Trip
I just couldn't recommend solo travel enough! Whether it's your first trip or your 100th adventure on your own, treat yourself in 2020.
Solo travel isn't about having no one to go with! It is about making time to do the things you love, it's about discovery, it's about getting out of your comfort zone and growing and seeing the world—and yourself—in a whole new way. After years of solo female travel, these are my fave places to travel alone.
Go on a Volunteer Trip
The world has so much to offer—and so do you! Find your passion and share your skills. There is such a diverse array of options out there.
Whether you are teaching English or caring for animals, it is such an amazing feeling to start your day with purpose and leave your mark. Check out these life-changing ways to volunteer abroad.
Book a Sustainable Tourism Trip
The Galápagos Islands are one of my fave places in the world. As soon as I set foot on the first island, I knew I had to share my experience with the world. Now, just returning from my latest TBA Escapes "Luxury Yacht Eco Expedition" through the Galápagos Islands, I am still basking in the afterglow.
Whether you go to this fab destination or another spot, let's make this our year to start focusing on sustainability and eco-friendly practices.
Iceland
Attempt  to See an Aurora
The Northern Lights tend to be the star of the show and it's easy to see why. Iceland is one of my top spots on the planet. While there is no promise that you'll see the Northern Lights, making the attempt to is so worth the trip.
Likewise, heading down under to see the Southern Lights is an equally magical experience—did you know that was a thing? Yep, you can sometimes see them in New Zealand, Tasmania, and Antarctica!
Take your pick and get ready to see stars…and possibly those gorgeous ribbons of light!
Take the Train Through Europe
My favorite thing about Europe is the fact that travel is so accessible. You can see such a vast array of cultures in such a short amount of time.
Hop on a train and just go as far as you can. Spend a night in Italy then hop on the train to Germany. Explore Bavaria then hit France the next day. While it is worth spending as much time as you can, trains across Europe are perfect for packing a trip with adventure.
Panama
Do a Language-Intensive Trip/Study Program
Speaking a second (or third!) language is transformative. It changes the way that you see the world and it takes travel to another level.
In college, I spent a summer in Spain doing a Spanish-intensive program and later I enrolled in a one-week Spanish program while I spent a month in Bocas del Toro, Panama.
Join students from all over the world to dig deeper into the local culture. Start from scratch in whatever language catches your fancy or brush up on your old high school skills.
Learn About  the Ocean + Get Scuba Certified
When you are above sea level, you are only seeing half the world! Learning how to scuba dive has been one of the best experiences of my life. I truly see and experience things I would have never known about if I had stayed snorkeling at the top.
Over the years, I've explored the depths of the ocean all around the world. I've gone on a night dive in Hawaii with manta rays, braved the freezing temperatures of the Silfra Fissure in Iceland, and even got to explore a sunken tank in Jordan!
Don't miss my tips and recommendations for scuba diving around the world!
Check out some of the most beautiful dive sites around the world and while you're at it, learn more about the ocean and why reef-safe sunscreen is so important!
Visit a Place You've Never Heard Of
Spin that globe and just see where your finger lands. The world is a big mysterious place full of experiences waiting to be had. Why not drop your preconceptions and go with a completely open mind?
Check out my Destination Map and start clicking away!
Attend an International Festival
I adore festivals around the world—whether we are talking music, cultural, or food fests, sign me up! The atmosphere is electric and every type of festival is worth checking out. Of course, there are massive international picks. But, I love the small ones too! Local festivals are a cool way to mingle with the locals.
Go on a Food Tour
If you aren't lucky enough to be in town for a food festival, go for a food tour. From Sydney to San Francisco, the best way to get to know a city is to eat your way across it. Get tips from locals, check out Airbnb Experiences, or simply start Googling.
Find recommended food tours here!
Be a Tourist in Your Own City/State
Fall in love all over again! It is entirely too easy to get stuck in a rut but it's equally easy to bust out. Get out of your usual routine and see all of the cultural and historical spots that you have never visited before.
Remember that it's okay to be a tourist in your own city—take yourself on a date and see all the things. You don't need to travel halfway across the world to have an epic adventure or experience new things.
Go Somewhere to See Your Favorite Animal
What animal would you like to see in its natural habitat?
One of my fave things in Cape Town is waddling around with the penguins! Whether it's bird spotting, diving with manta rays, or going on safari to spot the Big 5—go immerse yourself in nature!
Stay in a Castle
Have you ever wanted to live out a fairy tale?
There are so many beautiful castles around Europe. If you haven't checked out my European travel guide yet, start planning your trip there…but don't be fooled—there are castles all over the world, not just in Europe. So find the place that's perfect for you and start feeling like a queen.
See a Flower Field in Bloom
Take a moment to literally stop and smell the roses (or lavender or tulips!). One of my best memories from France was exploring the lavender and sunflower fields. They were completely stunning and the smell…and oh my goodness, the smell!
Wondering where the best destinations are to see flowers around the world? I've round them up for you!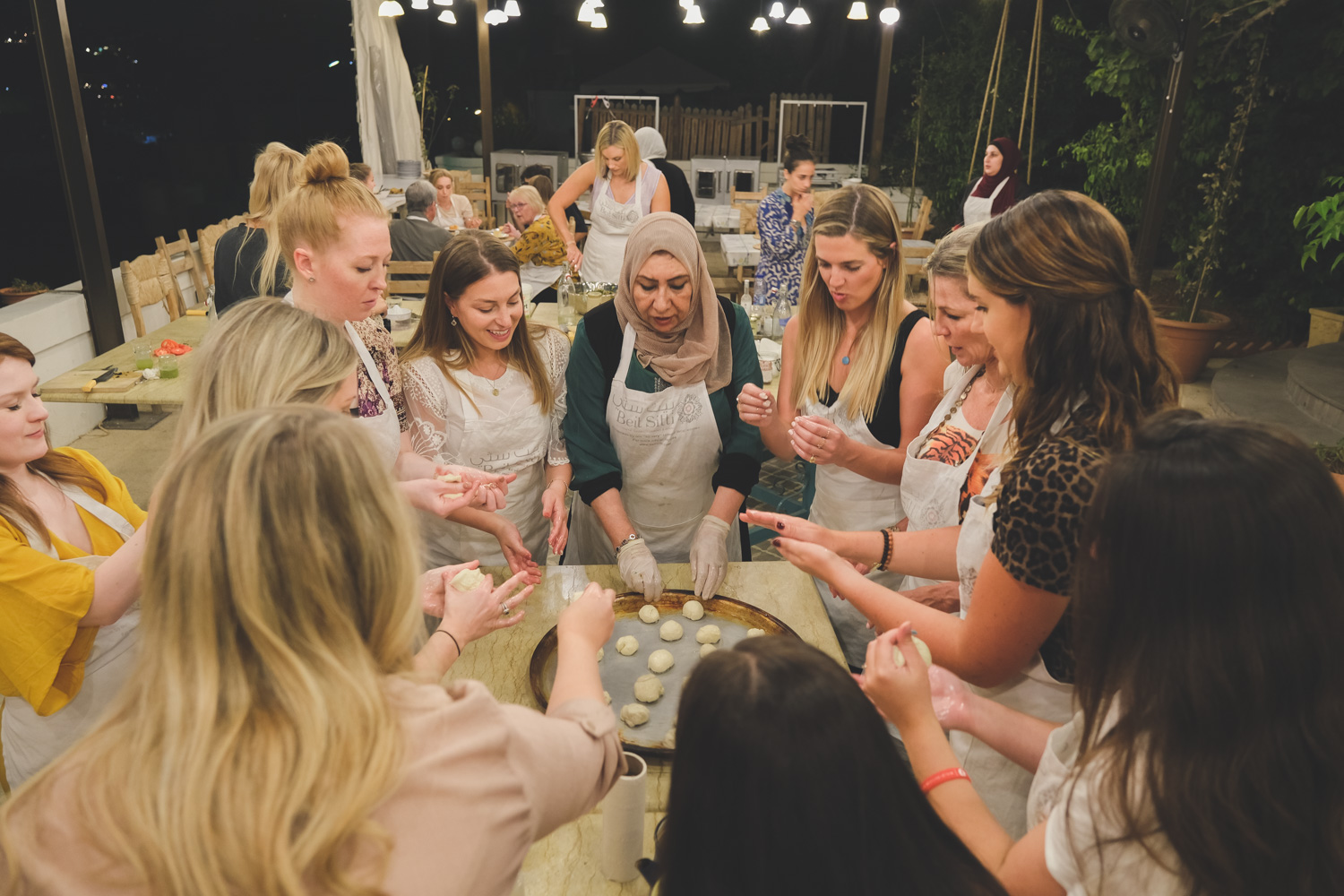 Try a Cooking Class Somewhere
When it comes to souvenirs, it is hard to beat a classic recipe. Learn to make pizza or pasta in Italy. Bring your taco game to the next level in Mexico. Food is such a central part of the culture so dig in and break bread with locals.
On the TBA Escapes "Ancient Wonders Tour" in Jordan we crafted Arabic and Jordanian Jordanian staples like hummus and fattoush and learned from a local woman who founded her own cooking school (Beit Sitti Cooking School—which means "my Grandmother's house"). The best souvenir!
Find recommended cooking classes here!
Petra
Machu Picchu
Visit One of the Wonders of the World
The United Nations Educational, Scientific and Cultural Organization, commonly known as UNESCO, is always working to preserve and highlight the best of the best around the globe. The classic Seven Wonders of the World and the New Seven Wonders of the World are must-sees.
The new places are high on my list—I've been to all except Great Wall and Taj Mahal!
Hike Through a National Park
There is nothing like connecting with nature. Breathing in the fresh air as you hike through the most majestic spots in the country is so revitalizing. I fall in love with Yosemite every time I go for a hike there and I can't wait to see every park in the country.
There are almost 100 countries around the world with national parks—the U.S. has 60, Mexico has 67, and Australia has a whopping 285. Where are you going to explore?
So, which of these things will you be checking off your travel bucket list in 2020? I'd love to hear all about your plans. Share with me in the comments below!!